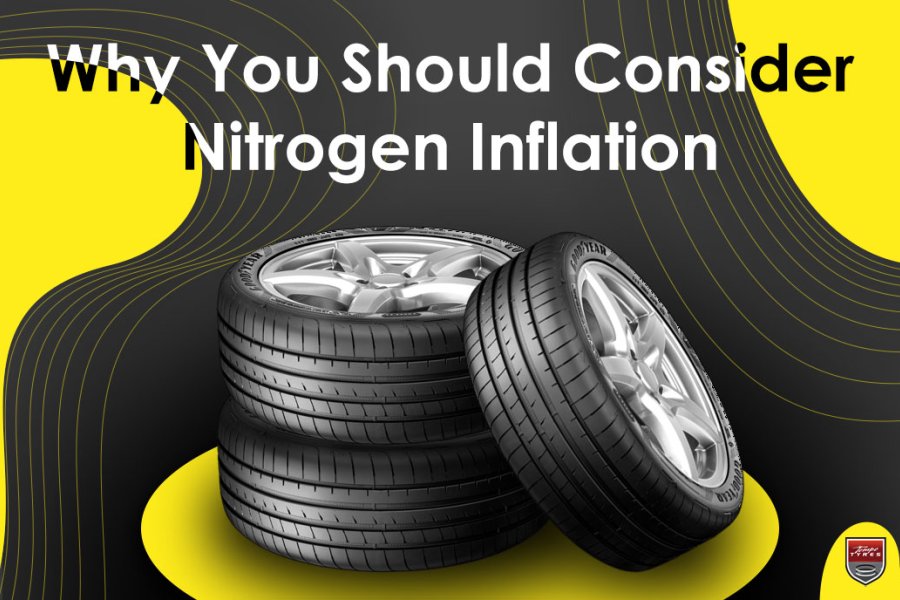 Why you should consider Nitrogen Inflation
Filling your car tyres with Nitrogen instead of just normal compressed air is rapidly becoming a trend. Having been largely used in high-performance cars, and industrial and aerospace industries, Nitrogen inflation is making its way into the life (and car tyres) of the everyday traveler. Although they may seem a bit too good to be true, the advantages of Nitrogen inflation like increased fuel efficiency, stable tyre pressure, improved performance, and grip, are not as far-fetched as we may think.

Let us discuss in detail if Nitrogen inflation really is worth getting.
Where is Nitrogen used:
Nitrogen has been used for airplane and race car tyres for some time now, primarily due to its properties and numerous advantages.

One of the advantages of Nitrogen inflation is that there is no trace of moisture or water in it. Air, on the other hand, contains water in the form of vapors which can expand and increase the pressure inside the tyres in case of high-speed situations that increase the tyre temperature, like take-offs or landings for planes and almost the entirety of a car race. This could lead to the tire exploding and the situation could turn ugly. Nitrogen, as opposed to Oxygen, is not flammable which is also a contributing factor for its use in airplanes and race cars.

Nitrogen is also not harmful as about 78% of the air around us is already made up of nitrogen, while the rest contains Oxygen (21%), Argon (0.9%) and small traces of vapors and gasses like neon, Xenon, and Carbon Dioxide etc. This means every time you filled your tyres with air, it had about 78% Nitrogen. However, Nitrogen inflation means inflating your tyres with a mixture that consists of at least 90% Nitrogen.
Why consider Nitrogen inflation?
The core advantage of nitrogen inflation for the everyday user is the ability of Nitrogen to maintain the air pressure for a longer period. Nitrogen molecules are slightly bigger in size as compared to oxygen molecules. This is why Oxygen permeates through the tire rubber at a greater rate. Although the difference in size is roughly only 3%, tyres inflated with purely Nitrogen lose pressure 3 to 4 times slower than tyres inflated with regular air.

A tyre losing pressure leaves it under-inflated, and an under-inflated tyre can be dangerous. Such a tyre also has a much lesser grip and negatively affects your control over the car. A tyre that is even a tad under-inflated, is unable to displace as much water while driving. This can lead to your car aquaplaning and make the situation worse.

Tyres with lower pressure also end up wearing at a much faster rate. It can potentially reduce the life of the tyre by half. Under-inflated tyres also make your car engine overwork and use up a lot more fuel. Although having your tyres filled with nitrogen does not mean they will stay inflated forever, it maintains the pressure for a longer period, which is suitable for people who do not regularly check their tires. However, you should still make it a point to keep a check on your tires' health and condition to ensure the best possible performance and avoid any mishaps that could occur due to a tyre in bad shape.

To summarise, filling your tyres with pure Nitrogen maintains tyre pressure for longer, and helps with the car's performance, fuel efficiency, and handling. Visit your nearest Tempe Tyres store for more personalized advice and get Nitrogen inflation.