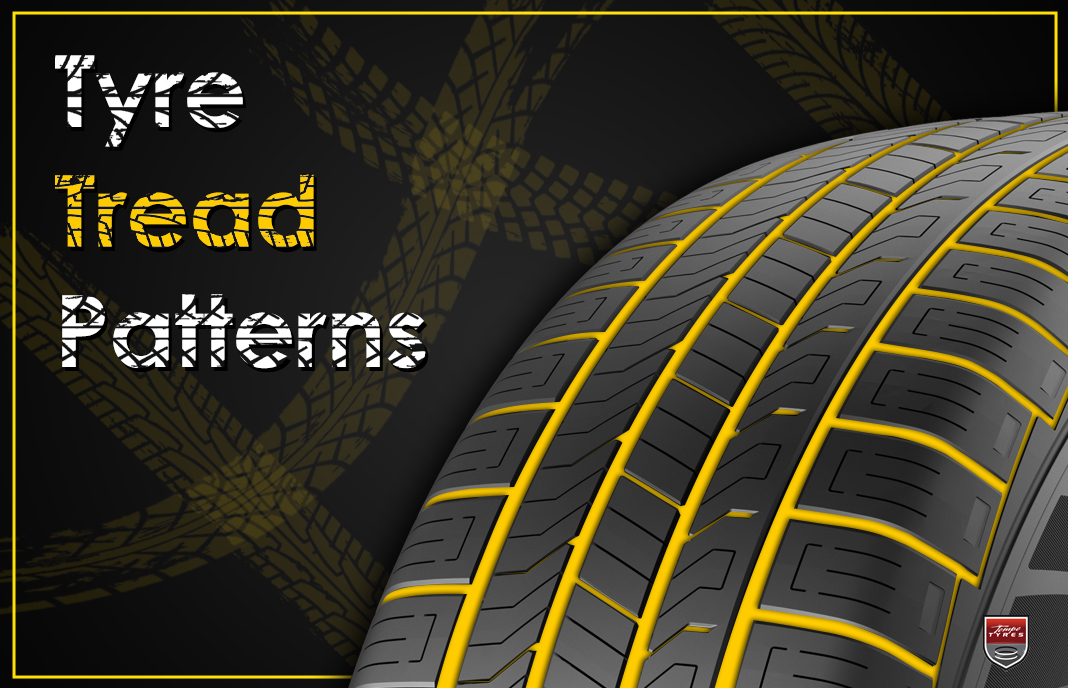 While it may appear straightforward at first glance, the creation and selection of tyres has evolved into a combination of both science and art within today's automotive industry. In contrast to the basic rubber tyres of the past, present-day tyres are now a complex blend of steel belts, advanced rubber compounds, and highly advanced fabrics.

As a driver, you likely have a basic understanding of what the tyre tread is—the portion of the tyre that comes into contact with the road's surface. However, what may not be as apparent is that the specific tread pattern of your tyre can have a significant impact on its performance, affecting factors such as handling and traction under various driving conditions.
Each tyre tread comprises four essential components:

i. Ribs- consist of elevated portions of the tyre tread, composed of tread block.

ii. Grooves- are deep channels that traverse both around the tyre's circumference and across it.

iii. Tread blocks- are the raised rubber segments responsible for making contact with the road.

iv. Sipes- are tiny, narrow slots integrated into the tread blocks.

By putting the ribs, grooves, tread blocks, and sipes in distinctive arrangements, it becomes possible to fine-tune the tyre's performance in crucial aspects such as reducing noise, enhancing handling, improving traction, and extending durability. This grants tyre manufacturers the capability to design tread patterns tailored to meet particular driving requirements like improved wet braking, optimized dry handling, increased resistance to aquaplaning (hydroplaning), and enhanced traction on icy and snowy surfaces.
Let's take a look at the three different types of tread patterns you may encounter; symmetric tread patterns, asymmetric tread patterns, and directional tread patterns:
1. Symmetrical Tread:
Symmetrical tread pattern is the most commonly used tread pattern for passenger tyres. The outer and inner side of in this type of tread are identical and mirrored. Moreover, symmetrical tires feature continuous ribs formed by the tread blocks all around encircling the tire. This pattern is well-suited for passenger car tires but not recommended for high-performance applications.

Tires with a symmetrical tread pattern offer flexibility in tyre rotation, allowing for front-to-back, back-to-front, or even an X-pattern rotation. Tyres with symmetrical treads are often referred to as "multi-directional" as they can be mounted as well as rotated in any direction without having any effect on performance.

Key attributes of symmetrical tread pattern tires include:

-Smooth and comfortable driving experience

-Excellent directional stability

-Minimal rolling resistance
2. Asymmetrical Tread:
Another tread pattern commonly seen in passenger tires is the asymmetrical tread pattern. This type of tread is divided into inner and outer halves, each featuring distinct channels and tread blocks. The outer side of the tread showcases robust tread blocks that provide a larger contact area, enhancing stability and handling on dry roads. The inner side of the tread on the other hand, incorporates high-angle sipes to ease road impact, resulting in a quieter ride.

Tires with an asymmetrical tread pattern offer flexibility in rotation methods allowing front-to-back, back-to-front, or an X-pattern tyre rotations. However, it is still crucial to ensure the correct side of the tyre is facing outwards.

Key features of asymmetrical tread pattern tires are:

-Improved handling.

-Higher stability on curves.

-Good grip in wet conditions.
3. Directional Tread:
In this tyre pattern, the tread is specifically designed for unidirectional rolling, meaning it should only roll in one direction. This 'V'-shaped tread pattern, usually found in high-performance tires, efficiently displaces the water, reducing the chances of aquaplaning, especially at higher speeds.

Directional tread patterns have superior traction, and thus provide excellent handling on mud or snow. Consequently, you're likely to find a directional tread pattern on quality all-season or winter tires. This enhanced traction is also beneficial for performance tires used on high-performance vehicles.

One important thing to remember when rotating tyres with directional tread is that these tyres are restricted to a single rotation method – the front-to-back or back-to-front pattern. Directional tires will display an arrow on the sidewall, indicating the required rolling direction when installed on the vehicle. This is to ensure that the V-shaped tread is in the correct orientation and will function as intended.

Key characteristics of directional tread pattern tires include:

-Enhanced protection against hydroplaning

-Outstanding handling on snowy and muddy surfaces

-Excellent handling at high speeds